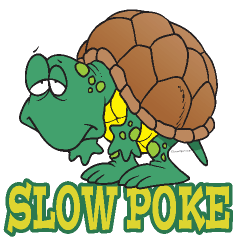 Only, you suck!
That is right! After an entire year of training, with several dozen races, two Marathons, several age group awards, and a steady improvement on your own personal records....you now are slower than a turtle dipped in molasses during the winter months. All of that previous training and conditioning....is gone.
Well, Maybe zero is a little harsh. It is possible that an injury was not major, and that the road to recovery was short enough so they can begin at half way. In other words, they have not fallen too far. Your legs and cardio quickly get back on track and you can race back to the top in no time.
But for those who have lost serious conditioning, this is a major blow. The blow is actually more mental than physical. Physically, they are able to get back in the saddle with a fixed leg. They just have to run around to get it back in the shape it once was. But the mental strain comes from remembering what it was like being on top; and viewing that from the bottom. They can't remember ( Or don't want to!) what it was like when running 9 minute miles was an achievement. And a training run over 8 miles was historic! They only remember the 7:45 minute miles over the 26.2 mile course. And THAT was the pace there wanted to improve. They want to skip ahead to that level before the injury. But, there are no shortcuts, and running is an unforgiving sport.
So then, what do you do?
forget
what it was like to be "good". No small task! Forgetting something can be
almost
as difficult as trying to remember something. Try to remember what you were like as a kid and I'm sure your perception differs from those who were around you. Luckily, we have forgotten all the dumb things we did back then when learning to tie your shoe was a major victory! ( Well, it was for me anyway) You have to remember that it took
time
to gain the conditioning that allowed you to achieve those milestones. And you have to
forget
that 6:45 mile that helped damage the leg to begin with. ( well, Not completely. Just keep that as a goal, not the standard.) There was a time when any time under a 7 minute mile was unimaginable. You have to go back there.
That is not to say that you will never get there again. It's simply a way to change your perception. Think of this as an opportunity to climb that mountain again...from the beginning. Only now you have a better understanding of the paths to take. Rebuilding things back to their former glory can be just as rewarding....and fun! And you know, in the back of your mind, that you
can
and
will
achieve that level again. (Well, at least until you get too old. Everyone has to retire
sometime
.)
look really good
in athletic clothes.
lifetime
. Not some short spurt of speed. Life is short enough. And as odd as it is to say this: running helps you slow down to enjoy life the longest. So keep running! Farther and farther...